Hi!  I'm Amanda Auricchio… also known as Coach Auricchio or simply "Grams".  I have been running my whole life.  During the inaugural year of Notre Dame Academy, I was a member of the very first state champion team of Notre Dame Academy.  In 1990, our girl's cross country team won the WISAA State Championship.  I was a Varsity runner for both cross country and track all four years of high school, going to state for both cross country and track every year.  In college, I had an awesome opportunity to run with the University of Notre Dame Women's cross country, indoor track, and outdoor track teams.  I graduated from the University of Notre Dame with a B.S. in Computer Science.
One of my favorite lessons I learned from my numerous years of Catholic education was the importance of giving back to my community.  Not only do I love working with these awesome athletes, but I am involved with two nonprofits in Green Bay.  Currently, I am the Board President of the House of Hope.  In addition, I am an Advisory Board member for Willow Tree.  
To this day, although I am not as fast as I use to be, I am an active runner still grinding away.  I have run 10 marathons, including 2 Bostons.  My favorite day of the year is always the Bellin Run.  I have been running the Bellin as often as possible since I was 12 years old, and now the race is a family tradition where we all run.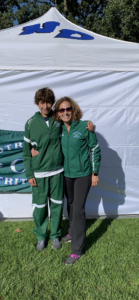 Believe it or not, I met my husband, Gaetano, at Notre Dame Academy.  I would pester him in English and beg him for answers in Latin.  He has always challenged me to be my best.  We have three sons.  Federrico is a Senior at NDA and runs both cross country and track.  Giuliano and Pietro are Sophomores, and they enjoy participating in soccer and track.
I am a runner at heart.  I love the serenity and personal challenges it brings to my life.  This is my fourth year coaching, and I am pumped to be a part of this dynamic and talented team.  I can't wait to work with these athletes and share the joy of running.  Let's go Tritons!
Updated:  June 28, 2022