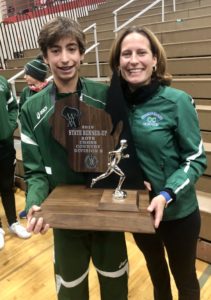 Hi!  I'm Amanda Auricchio… also known as Coach Auricchio.  I have been running my whole life.  During the inaugural year of Notre Dame Academy, I was a member of the very first state champion team of Notre Dame Academy.  In 1990, our girl's cross country team won the WISAA State Championship.  I was a Varsity runner for both cross country and track all four years of high school, going to state for both cross country and track every year.  In college, I had an awesome opportunity to run with the University of Notre Dame Women's cross country, indoor track and outdoor track teams.  I graduated from the University of Notre Dame with a B.S. in Computer Science.
To this day, although I am not as fast as I use to be, I am an active runner still grinding away.  I have run 10 marathons, including 2 Bostons.  My favorite day of the year is always the Bellin Run.  I have been running the Bellin as often as possible since I was 12 years old, and now the race is a family tradition where we all run.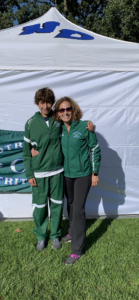 Believe it or not, I met my husband, Gaetano, at Notre Dame Academy.  I would pester him in English and beg him for answers in Latin.  He has always challenged me to be my best.  We have three sons: Federrico, who is a sophomore at NDA and joined the cross country team this past fall.  Giuliano and Pietro are our identical twins.  They are 8th graders at Notre Dame of De Pere and a bit less enthusiastic about our running adventures.
I am a runner at heart.  I love the challenges and serenity it brings to my life.  This is my second year coaching, and I am pumped to be a part of this dynamic team.  I can't wait to get to know all of the kids and share the joy of running.  Let's go Tritons!
Updated:  Aug 26, 2020